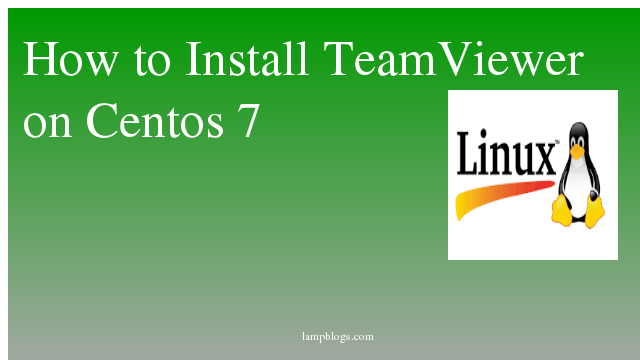 Install teamviewer on centos 7
TeamViewer is a proprietary software application for remote control, desktop sharing, online meetings, web conferencing and file transfer between computers.
Step1 : Install epel repository
Before installing teamviewer you can install epel repository to resolve dependency issues with following command.
[root@localhost ~]# yum install epel-release
Install wget package if you don't have installed previously.
[root@localhost ~]# yum -y install wget
download teamviewer from teamviewer official webpage.
[root@localhost ~]# wget https://download.teamviewer.com/download/linux/teamviewer.x86_64.rpm
install teamviewer using yum
[root@localhost ~]# yum localinstall teamviewer.x86_64.rpm
once it is installed, you can start the TeamViewer either from the command line by typing teamviewer or by clicking on the TeamViewer icon through graphically (Applications - Internet -TeamViewer).